Proper cover - gasket compression design by application of spaced fasteners is a function of plate thickness,acceptalbe gasket pressures,gasket performance under compression,and flange dimensions.
Maximum gasket deflection occurs at the location where the fastener applies force.The amount of bowing or deflection of the cover flange depends on several factors.Bowing may be severe enough that inadequate pressure is applied at the mid location of the gasket between fasteners.This effect may be minimized by proper design of the fastener spacing,cover/flange plate thickness and stiffness,and proper selection of gasket materials.
(The news is from www.engineersedge.com )
AIFLON SAMSUNG had import the testing equipment from Sumsung Precision Co.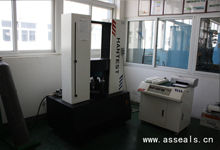 More details and design suggestions, please send e-mail to:
sales-1@asseals.com .We will do our best to support.
July.16th.2009 17:53 News Department