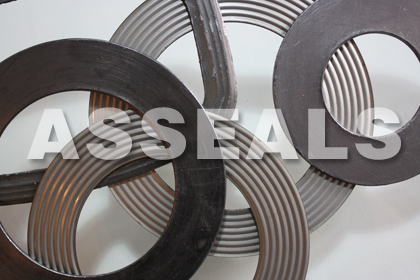 Description:
ASSEALS MC 620
Corrugated Metal Gasekts
used by 0.5mm,1.0mm,2.0mm etc metal sheets, by pressing, turning,rolling and other metal production processes into thin gasket, the surface equidistant concerntric circular wave.Corrugated Metal Gasket is better than ASSEALS KG 610 serrated gasket, such as compression and rebound rate. According to the requirements of different sealing surface to adjust the waveform,usually the waveform according reference standards.Paste the surface or lining materials are: Graphite,PTFE,non-metallic materials etc.

Applications:

ASSEALS MC 620 Corrugated Metal Gasket in the flange and the exchanger of large-size device is widely used,Paricularly in the smoke,gas,low pressure,high temperature and distorting the flange uneven conditions, the application better. At the same time, large size can be solved and easily installed occasions and replacement problems.

Prominent Features:

1.Excellent mechanical strength and thermal conductivity.

2.The application of high-temperature occasions.

3.Without any limitations on the size, the application of rough surface.

4.In accordance with free choice of working conditions or the surface of paste material lining.

Optional materials:
Metallic Materials

Code of Germany

Hardness/HB

Temperature

Density g/cm3

Thickness mm

Carbon Steel

1.1003/1.0038

90~120

-60~500

7.85

0.5mm

1.0mm,2.0mm

3.0mm

SS304,SS304L

1.4301/1.4306

130~180

-250~550

7.93

SS316,SS316L

1.4401/1,4404

130~180

-250~550

7.98
Surface Materials:
Flexible Graphite,PTFE,Asbestos sheet,Non-asbestos sheet , etc.