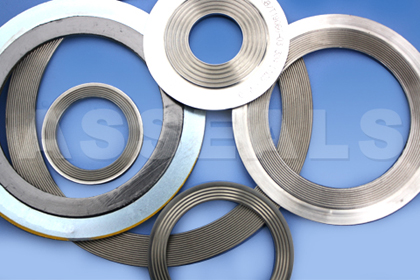 Description:
ASSEALS KG 610 Serrated Metal Gasket (Kammprofile Gasket) is made by CNC lathe precision lathe.The metal flat gasket surface of the groove processed into concentric circles. According to the different media and temperature, choose the different metal material and surfact material. The surface of paste normally used materials are : Graphite, PTFE, Non-asbestos or other soft metal.You can shoice without materials in surface, but in higher-pressure accasions, it is easily damage the surface of the flange. Please be carefully chosen.
Applications:
ASSEALS KG 610 pads in the lower pre-compression gasket of choice for the request, the surface of the pasted materials to avoid direct contact between the metal and metal. It can be closely combined with a reliable guarantee. Safety the flange injury.Serrated Metal Gasket is partucularly well suited to high temperature and high pressure, such as harsh working conditions of the site as well as spiral wound gasket and double jacketed gasket.
The use of the range of pressure: 6.4~25Mpa.
Material Selection:
Metallic Materials

Code of Germany

Hardness/HB

Temperature

Density g/cm3

Thickness mm

Carbon Steel

1.1003/1.0038

90~120

-60~500

7.85

2

3

4

SS304,SS304L

1.4301/1.4306

130~180

-250~550

7.93

SS316,SS316L

1.4401/1,4404

130~180

-250~550

7.98
Any other materials,please request
Surface Materials:
Flexible Graphite, Asbestos Shet, Non-asbestos sheet,PTFE,Mica,Lead, Aluminum, etc.
Series Serrated Metal Gaskets: