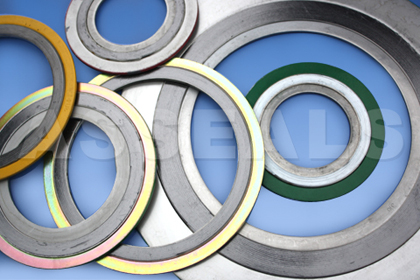 ASSEALS SW600 Range of spiral wound gaskets
The spiral wound gaskets are consists of v-shape or w-shape metal strap and within non-metallic filler spiraling and welding. According to the various of flanges , it can be within or without inner and outer rings.
The effects of pressure and temperature fluctuations, the temperature differential across the flange face, together with bolt stress and recovery to maintain a seal even under these varying service conditions. The spiral wound gaskets is the precision engineered solution to such problems.
It can meeting the most exacting conditions of both temperature and pressure and against virtually known corrosive and toxic media.
Spiral wound gaskets has been widely applied in the field of petrochemical, mechanical manufacturers, power station, metallurgy, shipbuilding, medical and navigation, etc.
We can produce according to ASME, BS, JIS, EN(DIN) standards or clients¡¯ request.
Products

Style

Flange

For example

Hoop material

Filler material

Inner & outer ring material

Normal thickness mm

Basic type SWG

600

Tongue and Groove

304/PTFE

Gasket

Inner &

outer ring

SWG with inner ring

600 IR

Male and Female

304 304/FG

304(L);

316(L)

321;317L

31803

Monel,

Ti,Ni

INC

Hast.C/B

Zr702

etc.

Graphite, PTFE,

Asbestos

Non-asb

Mica,

etc

CS,

304(L), 316(L),

321;317L

31803

Ti,Ni

INC

Hast.

Monel,

Zr702

3.2

4.5

(0.175")

6.4

2

3

(1/8")

4

SWG with outer ring

600 CR

Raised face

Flat face

304/ASB CS

SWG with inner

& outer rings

600 IC

304 304/FG CS

SWG for heat exchanger

600 H

Heat exchanger

304/FG with

1 bar of DJ

Special shape SWG

600 S

Special

Oval
The color cord as ASME B 16.20 on request