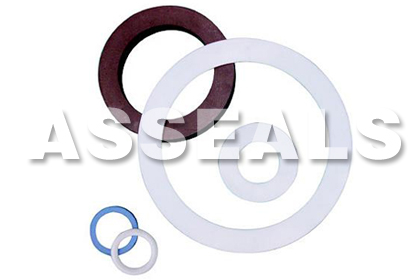 PTFE Gaskets is molded or cut from virgin PTFE powder or compounds, sheets , rods,tube etc.
PTFE is principally used as a gasket material because of it¡¯s capability to remain unaffected by the majority of chemicals used in industry. It is also classified , in most cases, as a food grade material,making it acceptable to both medical and food production industries.
For improve the quality , PTFE Gaskets used filler materials such as glass fiber, carbon fiber and graphite etc, the filled PTFE has improved compression strength, better abrasion resistance, high thermal conductivity and lower thermal expansion with pure PTFE products.
ASSEALS PTFE offers a wide range of compounded products with good mechanical properties,
Different combination offers a variety of different properties described in the following table.
Filler

Improved properties

Glass

Enhance wear resistance

Chemical resistance

Graphite

Extremely low coefficient of friction

Fairly good compressive strength

Good wear resistance

Carbon

Good thermal resistance

Resistance to deformation

Bronze

Enhanced compressive strength

Good wear resistance

High thermal conductivity